Again, social media is swarming with fake information about Moderna CEO Stephane Bancel has suddenly dumped $400 million worth of shares in the company and that he has deleted his Twitter account as a result.
Considering the staged and fake pandemic and the maiming and deadly vaccines, there is of course a lot of people who would want to believe that this is true. That something big is about to hit the fan.
Although it seems that his Twitter account, '@sbancel,' as earlier quoted by the official Moderna account, has been shut down, the dumping of shares is complete nonsense.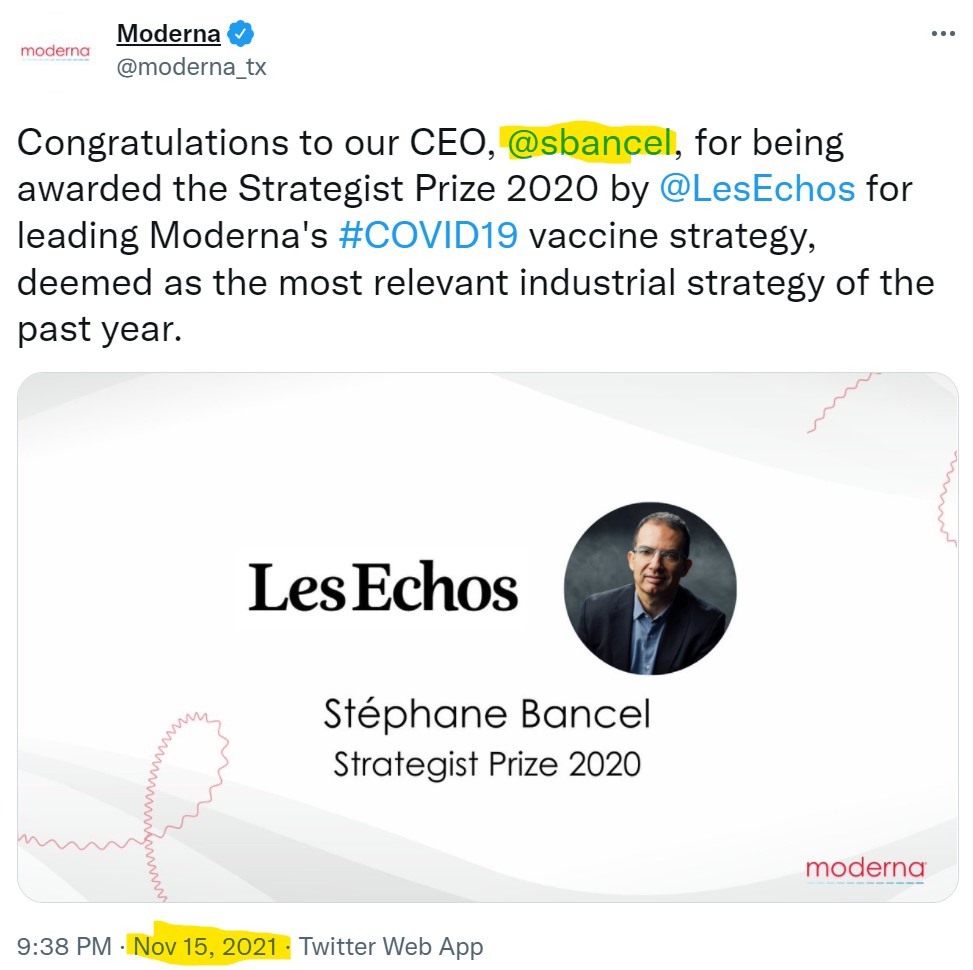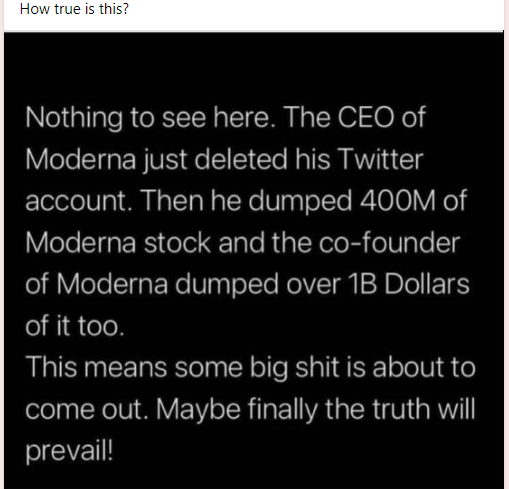 Checking the latest Form 4 filed by Bancel this Friday, despite claims that he sold $400 million worth of shares in recent weeks, the simple fact is that he disposed of just 19,000 shares for a gross of about $2.97 million. Here's the Form 4 filed by Bancel with the Securities and Exchange Commission.
https://www.sec.gov/Archives/edgar/data/0001682852/000112760222004563/xslF345X03/form4.xml
Here's the breakdown of the transactions:
9,000 shares directly owned by Bancel were sold on February 9, at an average price of $154.26 per share.
4,000 shares directly owned by Bancel were gifted as a bona fide charitable gift on February 9.
10,000 shares indirectly owned by Bancel were sold on February 10, at an average price of $158.05 per share.
If you count his shares, between direct and indirect holdings, Stephane Bancel has hold of 21,785,787 shares of Moderna, and based on the most recent price of $161.32, they are worth about $3,514,483,158.84. That is $3.5 billion worth of shares, so I would say that he is still most invested in Moderna – and is not jumping any ship as dimwits on social media has you believe.
As for the twitter account, it's hard to say when it was closed down. The latest cached page from Wayback Machine is from November 2, 2021.
https://web.archive.org/web/20210101000000*/https://twitter.com/sbancel
It was most likely not closed this weekend after selling only $2.97 million worth of shares. However, it makes for good stories on social media.