Ye, Kanye West, who has been "missing" for several weeks, most likely due to Kanye-public-fatigue-syndrome, is now back in the headlines as 'newly married.' This is, of course, yet another ritual and stunt to mock the sleeping and unaware public. As you know, Ye is part of the infodemic with his anti-libtard-woke antics and 'antisemitic' statements, claiming to be censored while he actually is a driving force of more censorship. And with that in mind, his new wife is named Bianca Censori. Yes, 'Censori,' the mocking is unreal. He married the Infodemic, his Censori-ship. And according to the media, Ye even released a song titled "Censori Overload" as an alleged tribute to his new "lady."
This Bianca Censori is allegedly one of the "minds" behind Yeezy Home. As in Ye-easy, Ye-ezy, with the Freemasonic double 'ee.' A 'housing development firm' that Ye is involved in, and that haven't really produced anything except for a couple of ridiculous prototypes of dome-shaped small cottages. Of course, these prototypes are under construction on some land in Calabasas, you know, where Lisa Marie Presley allegedly died on January 12, the same day they supposedly got married. And now, the day after Presley's death on January 13, he's back in the news and 'married' to one of the designers from his little housing project. All connected. Several rituals woven together. And this staged relationship has been arranged years ahead, all by the numbers and for some purpose. Welcome to the 'wonderful' life of the puppets on the world stage. Everything is scripted. They simply follow their manuscript and instructions from their handlers as they would go about acting in a movie.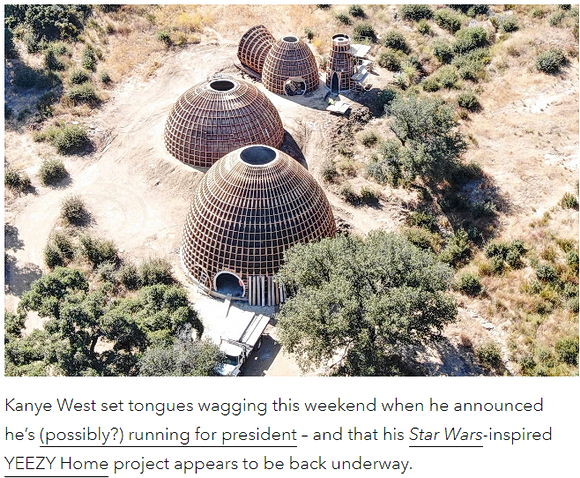 Of course, this 'marriage' was announced on January 13, as in 1/13, or 113 – the number of dishonesty, deceit and bullshit. Very fitting indeed, and even more so of this Bianca Censori-ship.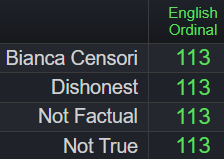 Bianca Censori = 113
Dishonest = 113
Not Factual = 113
Not True = 113
Not Honest = 113
Bullshit = 113
Politics = 113
Kanye West = 113
And remember, they were allegedly married on January 12, like 112. And it was announced by the media on January 13, like 113.
The Number for Dishonesty = 112, 113
Kanye was born on June 8, and this announcement comes 146 days before his next birthday.
Bianca Censori = 146
Masonic Ritual = 146
Take note of the match with 'Masonic Ritual,' it will be a common theme with this "marriage."
Of course, counting from the day of marriage, on January 12, it is 147-days before his birthday. And counting from the announcement on January 13 and counting the last day, it's a span of 147 days.
Ye, Kanye West = 147
Masonic Ritual = 147, 147
Freemason = 147
It's also 7 months and 5 days since his last birthday, like 75, the reversal of 57. And January 13 came with a 57-date numerology.

Censori Overload = 75 (the 'tribute' song by Ye)
1/13/2023 = 1 + 13 + 20 + 23 = 57 (75 backwards)

Masonic Ritual = 57, 57
I don't really have time to go any deeper into the coding of this ritual. This article was more a heads-up and reminder of the infodemic and all the players on the world stage. And it seems that West is back in the news again after a needed hiatus.