UN's Agenda 21 was primarily about strengthening the Climate Change fraud, which exploded with Jesuit puppets such as Greta Thunberg and their escalation of weather warfare from weather modification technology. This is nothing new, as they started with cloud seeding during the 40's and made no secret of it until much later. During the 80's HAARP was patented and implemented and that technology of using radio waves to shatter or form cloud formations evolved quickly during the 90's and early 2000. Then we experienced Direct Energy Weapons (DEW,) which was used and blamed on forest fires – although cars, houses and roads melted while trees where left untouched, the gullible dumbed down population swallowed the narrative of wildfires and forest fires — forest fires that didn't burn the forest. While many of these fires were fake and properties were targeted and destroyed on purpose, other wild fires were simply started by military helicopters using napalm and similar means.
This brings us to the latest fires in Colorado, brought to you by your own government as a tribute and ritual to end 2021, or simply to end Agenda 21, as Agenda 2030 is in full swing since several years back. And to mock you, it will of course be blamed on Climate Change as everything they do.
Let's break this down using their language of numerology and gematria.
Colorado = 38, and it is also the 38th state.
Fire = 38
Fire = 38 & 70
Boulder, Colorado = 38 & 70
The fires started on December 30, 2021.
December 30, 2021 = 12/30/2021 = (12) + (30) + (20) + (21) = 83

Colorado = 83
Boulder, Colorado = 83
Earth = 83 (keyword for man-made catastrophes such as fires or earthquakes)
Enlil = 83 (keyword for man-made catastrophes when flooding occurs, but still important as '83' is part of the 25- and 52-numerology for such events)
December 30, 2021 = 12/30/2021 = (12) + (30) + 2 + 0 + 2 + 1 = 47
The freemasonic compass is at 47 degrees and 47 is a very important number for them and this ritual was most likely carried out by freemasons within the government and military.
Boulder County = 47 (Jewish Red.) & 47 (Septenary)
Boulder, Colorado = 47 (Septenary)
CNN and other news outlets called the fires "wind-fueled wildfires," as they used weather modification to make the weather stormy to spread the fires.
Wind-Fueled Wildfire = 99
Direct Energy Weapon = 99 (what most likely was used to start the fires and make sure as many homes as possible was destroyed)
Controlled Demolition = 99 (what is was, areas targeted by DEW, see photos above)
Build Back Better = 99 (bbb, as in 666, keyword for Agenda 21 and Agenda 2030, building the New World Order)
When the story broke, many headlines stated, "Life-threatening" wildfires force evacuations…
Life-threatening = 153
Wind-Fueled Wildfire =153
Gov. Jared Polis = 153 (the governor of Colorado)
Jesuit Order = 153 (the order writing the script, giving the orders)
And, of course, December 30, as in 12/30 = 12 + 30 = 42
Jesuit = 42
Freemason = 42 (the order carrying out the orders)
Wildfires = 42 (420 in Satanic, which is 42, and 42 in Septenary)
And, this was obviously a fire ritual, a phrase that is 33 in Chaldean and 47 in Septenary, two of the most important numbers in Freemasonry. Fire Ritual is also 56 in Full Reduction, a very important number. And…

Fire Ritual = 70
Boulder, Colorado = 70
And the fire ritual was to end '21 and celebrate Agenda 21.
Agenda 21 = 133
Colorado = 133
And it was done with a "wildfire" or "forest fire" in Boulder, Colorado.
Agenda 21 Tribute = 130
Wildfire = 130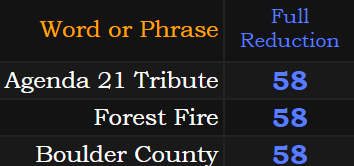 Agenda 21 Tribute = 58
Forest Fire = 58
Boulder County = 58

Agenda 21 Tribute = 83
Boulder, Colorado = 83
Colorado = 83